Occupational Therapy, Social Work and Speech Pathology
The School of Occupational Therapy, Social Work and Speech Pathology offers internationally accredited undergraduate and entry-level Masters programs as well as providing innovative and dynamic leadership to the profession.
We are the largest school of occupational therapy in Australia and the leading provider of social work education in the state and the only undergraduate provider in the Perth area. Our recently renovated building offers the latest teaching and learning resources and facilities, supported by innovative technology.
Occupational therapy and social work facilities enable students to practice client and family centred care scenarios in realistic interprofessional settings. Take a virtual tour.
There is a stuttering speech pathology clinic on campus where you can practice the skills you have learned, and student-led clinics offering services in speech pathology, occupational therapy, physiotherapy, social work, dietetics and provisional counselling psychology in nearby Cockburn.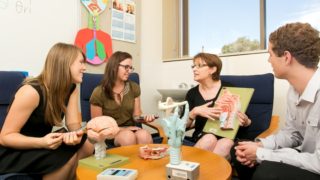 Our Speech Pathology clinics
The school runs a stuttering clinic and an adult speech pathology clinic on campus within the Health and Wellness Centre. Our Stuttering Clinic provides individual treatment as well as fluency groups for adolescents, adults, children and individuals with Down Syndrome. Our Adult Speech Pathology Clinic offers individual treatment, a dysarthria group and a language group for stroke survivors.
---
Curtin graduate a rising star in social work
Curtin Bachelor of Social work graduate Julie Verley was recently awarded a 2016 Social Worker of the Year Award in the Rising Star category.
Read more